Demetria Devonne Lovato (born August 20, 1992) is an American singer, songwriter and actress. After appearing on the children's television series Barney & Friends as a child, she received her breakthrough role as Mitchie Torres in the Disney Channel television film Camp Rock (2008) and its sequel Camp Rock 2: The Final Jam (2010).
DEMI LOVATO IS A GRAMMY NOMINATED AND MULTI-PLATINUM SINGER, SONGWRITER, ACTRESS, ADVOCATE, PHILANTHROPIST, AND BUSINESS WOMAN.
In addition, she's one of the biggest names on social media, with an engaged combined following of over 145 million.
Since signing with Hollywood Records, Lovato has released six studio albums, including Don't Forget (2008), Here We Go Again (2009), Unbroken (2011), Demi (2013), Confident (2015), and Tell Me You Love Me (2017). Lovato earned seven top 20 entries on the US Billboard Hot 100 chart: "This Is Me", "Here We Go Again", "Skyscraper", "Give Your Heart a Break", "Heart Attack", "Cool for the Summer", and "Sorry Not Sorry". Of her television credits, Lovato starred as the titular character on Sonny with a Chance from 2009 to 2011; was featured as a judge and mentor on the American version of The X Factor in 2012 and 2013; and appeared as a recurring character on Glee. Her struggles with bipolar disorder, addiction, an eating disorder, and self-harm received significant media attention in the 2010s, in response to which she published the book Staying Strong: 365 Days a Year (2013) and a YouTube documentary about her life and career, Demi Lovato: Simply Complicated (2017).
Demi's highly-anticipated fifth studio album, CONFIDENT, was released in 2015. Within hours of the release of the first single, "Cool for the Summer", the anthem trended worldwide and hit #1 on iTunes in 37 countries. Her previous album, 2013's DEMI, hit #1 on iTunes in over 50 countries around the world – with the lead single "Heart Attack" earning Platinum status just ten weeks after its release. "Heart Attack" was followed by the top 5 radio smash and platinum single "Neon Lights," and her top 10 single "Really Don't Care." The album supported two headlining tours (NEON LIGHTS and DEMI WORLD TOUR) which made stops throughout North America, Europe, Asia, Australia and New Zealand.
Lovato was born on August 20, 1992 in Albuquerque, New Mexico to former Dallas Cowboys cheerleader Dianna De La Garza (née Dianna Lee Smith) and engineer and musician Patrick Martin Lovato. She has an older sister named Dallas; a younger maternal half-sister, actress Madison De La Garza; and an older paternal half-sister named Amber, to whom she first spoke to when she was 20.
Lovato's parents divorced in mid-1994, shortly after her second birthday. Lovato's father was of Mexican descent, with mostly Spanish and Native American ancestors, and came from a family that has been living in New Mexico for generations; he also had distant Portuguese and Jewish ancestry. Her mother has English and Irish ancestry. Through her father, Lovato is a descendant of Civil War Union veteran Francisco Perea and Santa Fe de Nuevo México governor Francisco Xavier Chávez. Through DNA testing Lovato discovered that she is also 16 percent of Scandinavian descent and one percent of African descent.
Lovato was raised in Dallas, Texas.[23][24] In 2002, she began her acting career on the children's television series Barney & Friends as Angela. She began playing piano at age seven and guitar at ten,[26] when she also began dancing and acting classes. Lovato told Ellen DeGeneres that she was bullied so badly that she asked for homeschooling, and she received her high-school diploma through homeschooling in April 2009. She later became a spokesperson for the anti-bullying organization PACER and appeared on America's Next Top Model to speak out against bullying. In 2006, Lovato appeared on Prison Break, and on Just Jordan the following year.
As of September 2015, Lovato's name appears on the "Unclaimed Coogan" list, which is a fund for child actors whose earnings were partially withheld, but which remain unclaimed by the former child performers.
In April 2017, Demi played the voice of Smurfette in the Sony animated film, 'Smurfs: The Lost Village.' Additionally, beyond the stage and the screen, in 2013, her book Staying Strong: 365 Days a Year, became a New York Times best-seller, and in 2014 she became a global ambassador for Sketchers. In 2015, Lovato partnered with Episode, a leading mobile storytelling network, to make Demi Lovato: Path to Fame. Since launching, her story has been read over 225 million times. In 2016, Demi took on a new venture and was announced as the first-ever collaboration with Fabletics, the innovative active wear brand co-founded by Kate Hudson.
As a result of her long-time commitment to raising awareness around LGBT issues and causes, in 2016, Demi became the recipient of GLAAD's Vanguard award. She continues to be a global advocate for Mental Health, and in 2017 was honored by Semel Institute for Neuroscience and Human Behavior at UCLA, with the Artistic Award for Courage for her work in mental health. In addition, also in 2017, she was named by Global Citizen as the organization's official ambassador for mental health, with a special focus on vulnerable communities around the world.
Lovato is an active supporter of gay rights. When the Defense of Marriage Act was struck down in June 2013, she tweeted: "Gay, straight, lesbian, bi. … No one is better than any one else. What an incredible day for California AND for equality." Lovato later said: "I believe in gay marriage, I believe in equality. I think there's a lot of hypocrisy with religion. But I just found that you can have your own relationship with God, and I still have a lot of faith."
On December 23, 2011, Lovato posted a message on Twitter criticizing her former network for airing episodes of Shake It Up and So Random! in which characters joked about eating disorders. Disney Channel publicity officials quickly took action, apologizing to Lovato and removing the episodes from the network's broadcast and video on demand sources after additional criticism (following Lovato's post) on the network's public-relations account.
Lovato identifies as a feminist.
In June 2016, Lovato was among the artists that signed an open letter to stop gun violence, created by Billboard. That month, the Human Rights Campaign also released a video in tribute to the victims of the 2016 Orlando gay nightclub shooting; in the video, Lovato and others told the stories of the people killed there.
In January 2017, Lovato returned to Kenya to participate in working with We Movement to do work with women and children. In March 2017, as a celebration of five-year anniversary of sobriety, Lovato donated money to multiple Los Angeles-based charities. Lovato randomly selected a group of causes based on their work, which included animal, LGBT and adoption rights. On March 22, Lovato will be honored with the Artistic Award of Courage at The Jane and Terry Semel Institute's biannual Open Mind Gala, which recognizes those who raise awareness and reduce the stigma of mental health issues.
Lovato partnered with Fabletics in May 2017 on limited edition activewear collection. The collaboration was in support of the United Nations Foundation's Girl Up campaign to fund programs "for some of the world's most marginalized adolescent girls." On September 23, 2017, Lovato was named a Global Citizen ambassador for championing the mental health of thousands of children displaced within Iraq and other communities. Lovato and Global Citizen will fund the expansion of a Save the Children pilot program, Healing and Education through the Arts, to violence-scarred young people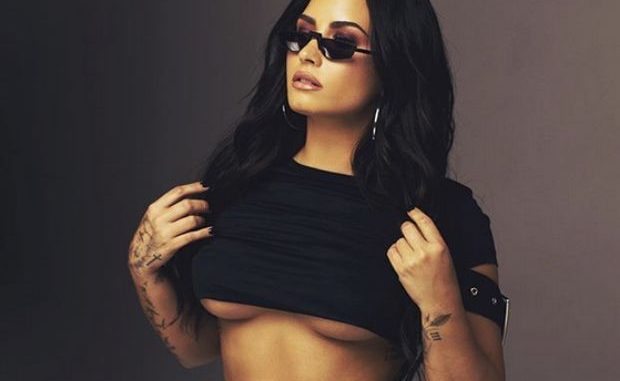 In July 2017, she released the first single off her upcoming album Tell Me You Love Me, which instantly flew into the Top 5 on the iTunes Charts. "Sorry Not Sorry", which has garnered over 195 million streams and climbed to #1 on the viral charts
DEMI LOVATO
The Videos and photography of Mrs Demi Lovato  are displayed only for the purpose of promoting her, her image and music.
For more info on her, tours and others  visit:
http://www.demilovato.com/
some info taken from Wikipedia.org